Shannon Chamber Skillnet in co-funded by Skillnet Ireland and member companies to offer a suite of training programmes that address the skills deficits of enterprise
All training offered is response to a 'Training Needs Analysis' (TNA) survey, issued annually to all member companies. This ensures that the courses we offer directly reflect the specific needs of companies while also equipping employees with the types of new and enhanced skills they may need to augment within their organisations.
If your company has a specific training requirement, we would be delighted to discuss how we can assist in meeting this need.
Check skillnet.shannonchamber.ie for all current training.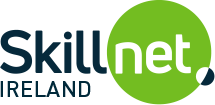 Skillnet Ireland is a national agency dedicated to the promotion and facilitation of workforce learning in Ireland.
Skillnet Ireland currently supports over 15,000 companies nationwide and provides a wide range of valuable learning experiences to over 50,000 trainees. Its mission is to facilitate increased participation in enterprise training and workforce learning in Ireland.
The primary objective of Skillnet Ireland is to increase participation in enterprise training by companies as training and up-skilling are key elements in keeping companies competitive in both a domestic and international context. Training and upskilling also significantly enhance the career mobility of a company's workforce.
Shannon Chamber Skillnet is co-funded by Skillnet Ireland and member companies. Skillnet Ireland is funded from the National Training Fund through the Department of Education and Skills.
For further information please visit www.skillnetireland.ie
---
Skillnet Ireland Trainee Privacy Statement